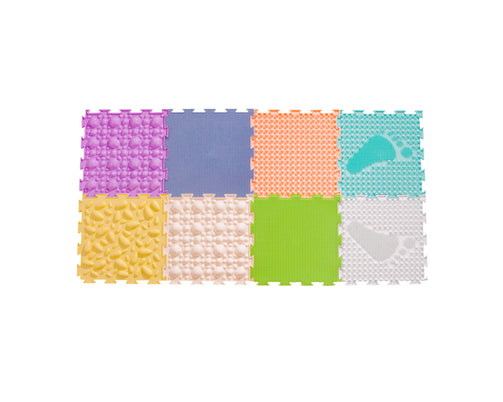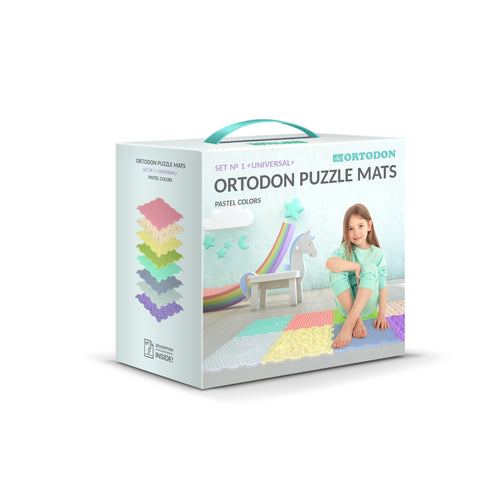 Universal Pastel - Sensory Puzzle Mat
Universal Pastel - Sensory Puzzle Mat
Regular price

Sale price

HK$780.00
An orthopedic floor mat that was designed for, toddler and their parents alike. It contains a diverse set of massage puzzles that would create not only new sensations for your kids but also help develop stronger well-being and prevent flat feet. Different surfaces stimulate physical activity and help the development of motor skills, which may later contribute to a better immune system and sleep. For parents, these mats may help to remove fatigue and increase efficiency.
It's fun to create a "path" for kids to step on, or a "lava" zone instead.
PRODUCT INFO
This set contains 7 different types of massage mats for kids, each of a different color, each tile is 10x10" (25x25cm).
Puzzle types included:
- 1 pc. "Stones" consists of differently sized bulges and imitate a walk on a pebbled surface. Strengthens muscles and improves blood circulation. Purple.
- 1 pc. "Soft Stones" is designed from different sized stones to stimulate the entire foot and improve blood circulation in little one's feet. Pink.
- 1 pc. "Soft Grass" stimulates a walk on young grass, providing a pleasant massage on the baby's feet. Green colors.
- 1 pc. "Firm Grass" simulates a walk on grass, providing pleasant sensations in feet. Orange.
- 1 pc. "Soft Spikes" stimulates physical skills and abilities like balance. Red.
- 1 pcs. "Soft Cones" imitates a forest floor covered with pine cones of different sizes. It provides a great stimulus for feet' muscles and helps prevent flat feet in the future. Yellow.
- 2 pcs. "Pines" is a mix of Soft grass and Spikes elements for left and right feet. The puzzle prevents flat feet development and improves the kid's balance. Blue and turquoise colors.
The box includes a set of exercises. The muscles of the legs with systematic exercises become stronger. Orthopedic floor mats have a stimulating effect on the muscles of the foot, which prevents the development of flat feet and contributes to the formation of correct posture from an early age. 
Baby playmats are made of PVS and can be interlocked with each other to form different paths and obstacles. Tiles are durable and easy to wash, plus they don't take a lot of space and are perfect to use when kids have no opportunity to run barefoot in nature and experience these sensations.
Pastel colors will perfectly complement the interior and will bring many hours of healthy play to your kids.
The Orthopedic Floor Puzzle mats are one of the best investments in the health and development of your kids.
Couldn't load pickup availability