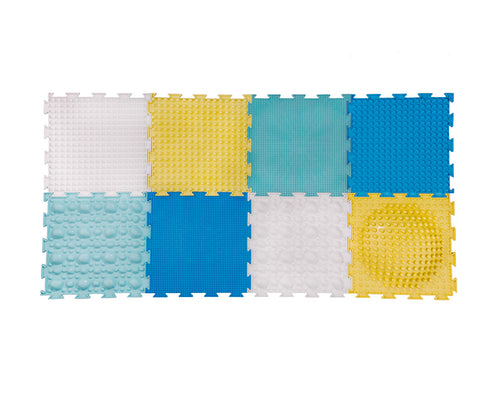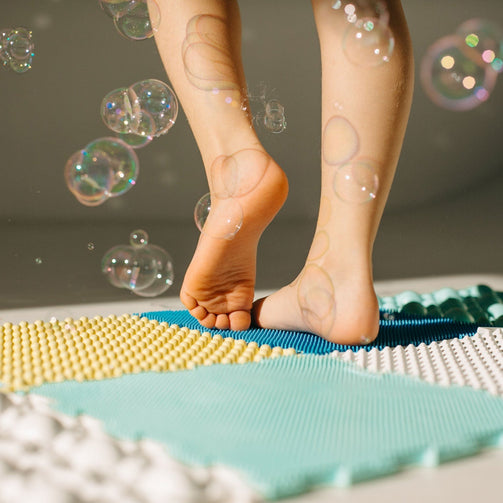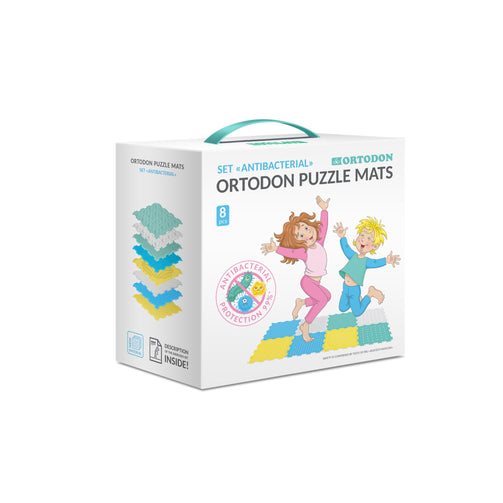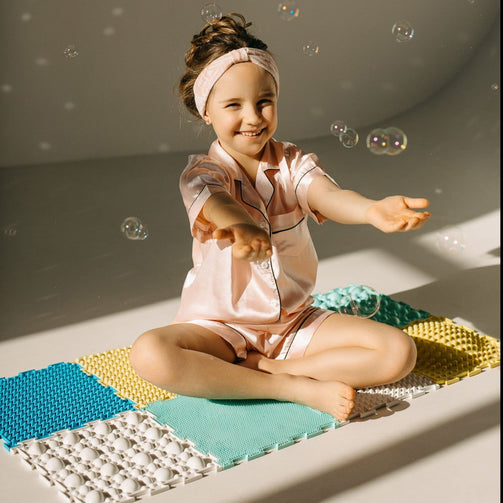 Antibacterial - Sensory Puzzle Mat
Antibacterial - Sensory Puzzle Mat
Regular price

Sale price

HK$780.00
An orthopedic floor mat was designed for toddlers and their parents alike.
New time - new approaches to personal and public hygiene. This requirement applies to the objects and products around us. That's how was created new antibacterial set.
Each Box contains a diverse set of massage puzzles that would create not only new sensations for your kids but also help develop stronger well-being and prevent flat feet. Different surfaces stimulate physical activity and help the development of motor skills, which may later contribute to a better immune system and sleep. For parents, these mats may help to remove fatigue and increase efficiency.
It's fun to create a "path" for kids to step on, or a "lava" zone instead.
PRODUCT INFO
There are 8 modules of 5 types of surfaces. Each tile is of a different bright color and has a size of10"x10" (25x25 cm).
Puzzle types included:
-2 pcs. "Stones" consist of different sized bulges and imitate a walk on a pebbled surface. Strengthens muscles and improves blood circulation. Blue and white colors.
-2 pcs. "Icicles" were designed from many short and pointy pillars that stimulate deep muscles and help get rid of fatigue. White and turquoise colors.
-1 pc. "Firm Wave"improves blood circulation and relieves tension in feet. The mat has spikes of different lengths in the shape of a wave and reflects the arch shape of the feet. Blue color.
-2 pcs. "Soft Grass" stimulate a walk on young grass, providing a pleasant massage on the baby's feet. Blue and turquoise colors
-1 pc. "Soft Spikes" stimulates physical skills and abilities like balance. Yellow color.
-1 pc. "Rigid Island" is a tile that has one large and firm bulge covered with little spikes. It's perfect for flat feet prevention as it helps the development of a healthy arch and stimulates blood circulation. Also, it's fun to balance on! Yellow color.
-Designed and Made in Russia
-100% safe for your child: antibacterial, BPA Free, non-toxic, non-smell, non-slip material perfect for your baby.
The set also includes exercises brochure that can be done on the play mats to massage every little part of your kids feet and be sure that they have enough stimulation for a healthy development.
The puzzle mats of the "Antibacterial" set are made of new raw materials with antibacterial properties: TPE Masflex AMD - antibacterial thermoplastic elastomer. TPE Masflex AMD provides excellent "repelling" and "protecting" performance of the surface of the modules, combined with the durability of the antimicrobial effect, since they are formulated with components containing silver ions. Humidity in the air promotes the removal of silver ions to the surface of puzzle floor mats, protecting and preventing the formation of bacterial colonies on the surface and further penetration of bacteria inside. This effect lasts for the entire life of the product.
These mats are one of the best investments in the health and development of your kids.
Couldn't load pickup availability