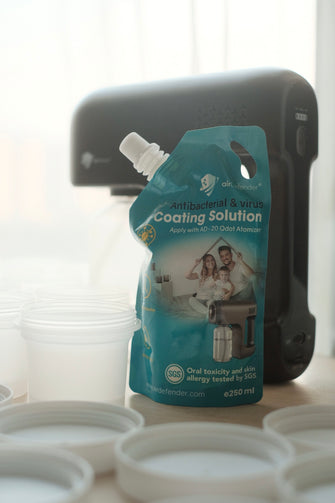 AirDefender Antibacterial & Virus Coating Solution Refill
AirDefender Antibacterial & Virus Coating Solution Refill
Regular price

Sale price

HK$180.00
Obtained 5 thorough and complete human safety tests conducted by SGS
Effectively inhibit 99.9% of barteia
7 Days long-lasting protection
Non-alcoholic
Apply with AD-20 Qdot Atomizer 
7-day long-lasting antibacterial and antiviral spray solution-250ml refill
-The ONLY  Brand in Hong Kong that has obtained 5 thorough and complete human safety tests conducted by SGS
NO oral toxicity
NO skin irritation
NO eye irritation
NO inhalation risk
NO cytotoxicity
- The ENVIROR test by a German authoritative laboratory confirms: anti-coronavirus; SGS multiple test reports prove that it inhibits the growth of virus bacteria by 99.9% , including H1N1 , Escherichia coli, scarlet fever, Staphylococcus aureus and Listeria.
-In 2014 , it was rated as the top 3 best quantum-level photocatalysts by NASA , and its decomposition rate is 38 times higher than that of commonly used products in the market.
Antibacterial protection for seven days
-Eliminate 99.9% of harmful bacteria     
- Keep low bacteria space for seven days          
Ingredients:
Titanium dioxide, ultrapure water
Instructions:
Used together with QDOT Cordless sanitizer atomizer spray gun, it helps to reduce the chance of diseases caused by contact with bacteria
Instructions:
-Pour the solution into the plastic bottle of Qijingda Quantum Dot Wireless Spray Gun (AD20) . It can be sprayed on the surface of objects including toys, tabletops, curtain armrests and other objects.    
- If water spots are formed during spraying, please wipe them off with a clean dry towel after 15 to 20 seconds to avoid leaving marks.      
-It is recommended to keep a distance of at least 40 cm from the object when spraying    
other information:
-Store at room temperature away from direct sunlight.    
-Do not hide in snow.    
- Use within nine months after opening. 

七天抗菌保護
-消滅99.9%有害細菌
-保持七天低菌空間

使用方法:
將溶液倒入氣淨達產品(手提量子霧化槍)膠樽內使用,可以噴灑於物件表面包括:玩具、桌面、窗簾扶手等物件上。
如噴灑時形成水點,請在15至20秒後用乾淨乾毛巾抹去以免留下印痕。
建議噴灑時與物件保持至少40 cm距離

國際權威證書:
- 經美國實驗室Analytical Lab Group(GLP)實證能即時殺滅COVID-19(冠狀病毒)達99.999%

- 全港唯一經英國VRS ISO17025實驗室測試確認能於乾透後的塗層上持續殺滅COVID-19(冠狀病毒)達99%

- 德國權威實驗室ENVIROR測試證實:抗冠狀病毒;

- 多份國際測試報告證明:抑制病毒病菌生長達99.9%,包括H1N1、大腸桿菌、猩紅熱、金黃葡萄球菌及李斯特菌等。

- 通過SGS人體安全5大認證,包括眼部【0】刺激性、皮膚【0】敏感、皮膚細胞【0】滲透毒性、吸入【0】風險、口服【0】毒性。

- 2020年「香港新星服務品牌選舉」得主

- 2014年由NASA評為首3位最佳量子抗菌技術,其分解率更高於市場上常用的產品達38倍

成份:二氧化鈦及超純水

淨容量: 250毫升

保存期限: 開封後9個月內有效
Couldn't load pickup availability