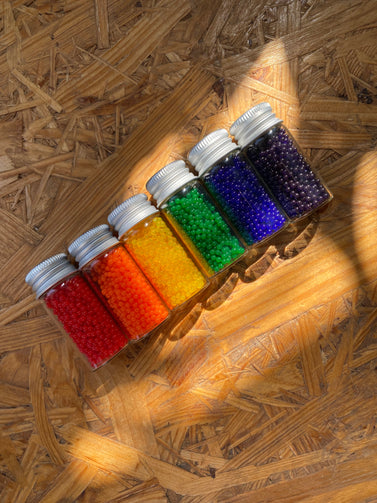 Rainbow Waterbeads
Rainbow Waterbeads
Regular price

Sale price

HK$100.00
Rainbow water beads, a set of 6, are made of safe and environmentally friendly materials and are non-fade, non-toxic, and non-flammable.
red - 10g
orange - 10g
yellow - 10g
green - 10g
blue - 10g
purple - 10g
Directions:
1- Soak the waterbeads in Playtray -full of water to let the water beads grow. It will usually take 3-4hours to grow to its full size.
2- Sort out the broken ones and keep the good ones in a bottle or zip lock bag after each plays. Rinse every other day to avoid growing bacteria. Rinse well and soak in water before each play.
3- DO NOT flush in to toilet or sink!! It will clog the drainage! 

only suitable for age above 3yo.
****** CHOCKING HAZARD!!! Do not let the child playing with waterbeads alone! 
Imported from USA.
Couldn't load pickup availability